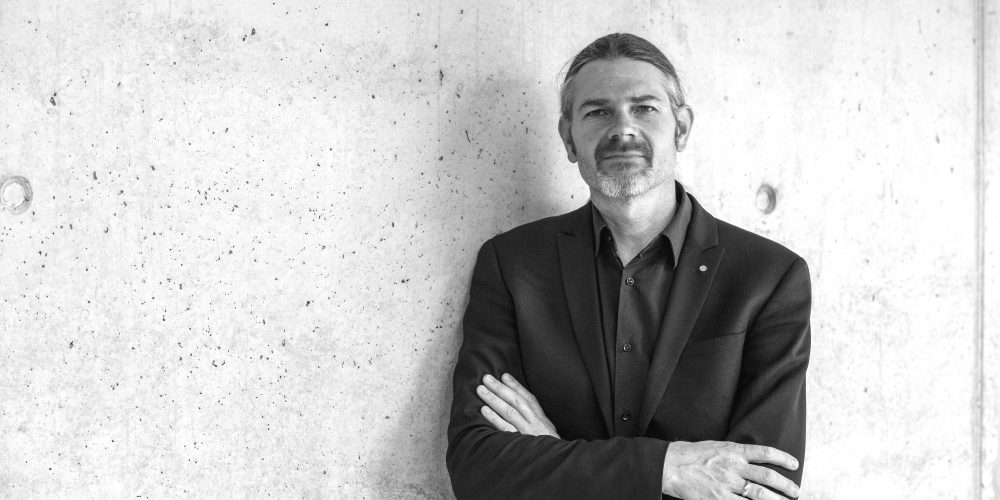 Prof. Dr. techn. Priv.-Doz. Andreas Riener
human factors
human-machine interaction
ux and usability research
virtual reality
E-Mail: Andreas.Riener(at)thi.de
Phone: +49 841 9348-2833
Room: B210
Short Biography
Since September 2015, I am a professor for Human-Machine Interaction and Virtual Reality at Technische Hochschule Ingolstadt (THI) and I am charter member of the CARISSMA Institute of Automated Driving (CIAD).
Since 2016, I am heading the degree program User Experience Design (UXD, undergraduate) and since 2020 the corresponding international UXD master program. Furthermore I am heading the Usability testing/user experience design (UXD) and driving simulator labs. In October 2017, I was promoted to a research professor for "Human Factors and Driving Ergonomics" at THI (which goes along with a reduction in the teaching load from 18 to 9 SWS). At the same time, I founded the "Human-Computer Interaction Group" (HCIG) at THI. Before moving to Germany, I was Priv.-Doz. (tenure; equivalent to associate professor) at the Institute of Pervasive Computing (headed by Prof. Alois Ferscha) at Johannes Kepler University of Linz (JKU).
I graduated in computer science at JKU in 2001. After spending a couple of years in industry in varying positions I joined again JKU in 2005, enrolled in the PhD program in computer science and worked as research and teaching assistant (PhD student) at the Institute for Pervasive Computing. In February 2009 I completed my PhD studies (with honors) and worked as a PostDoc until February 2014 at the same institute. In February 2014 he was awarded the venia docendi in "Applied Computer Science" from JKU and promoted to an associate professor position. The title of my habilitation thesis is "Perceptual computer science – Human-centric and reality-based human-machine interaction".
Download short CV (April 2021):

Fields of Research
Focus in the field of hypothesis-driven, experimental research in the field of "Human Factors and Ergonomics" (human-machine interfaces or driver-vehicle interaction). The areas of interest include:
Usability studies and user experience (UX) evaluation
Intelligent human-computer interfaces based on UbiComp technology
Contextual, adaptive systems
(In-vehicle) augmented/virtual reality (AR/VR) applications
Driver-vehicle interaction (not only for automated driving)

Transfer of control between driver & vehicle (TOR; switching between levels)
Trust in technology and acceptance of assistance systems
Ways for effective office work in cars (reading, typing)
Communication in the exterior, e.g., concepts for vehicle-pedestrian interaction

Multi-modal sensor-/actuator-based interaction
Novel forms of communication (gestures, speech, brain-computer interfaces)
Artificial intelligence technologies in the car
Implicit interaction and perception-based technologies
Sensor models and impact of adverse weather effects on sensors
Publications
For a full and up-to-date list see "Publications" (queried from DLBP). In addition, you might find these resources useful:
Offered Courses (Academic Year 2020/2021)
Winter term 2020/2021
"Research Project" (Interior/Exterior Design Concepts for Automated Shuttle Buses), Project 4 SWS, WS 2020/21 (UXD master, with DB Regio)

"Softwareentwicklung 1" (Software Development 1), Lecture 4 SWS, WS 2020/21 (UXD bachelor)

"Technik Mensch-Maschine Interaktion" (Technology of Human-Machine Interaction), Lecture, 4 SWS; Exercise/Practical, 2 SWS WS 2020/21 (UXD bachelor, with S. Nestler, A. Loecken)
"Nachbereitendes Praxisseminar" (Follow-up practical seminar), Seminar, 1 SWS, WS 2020/21

(UXD bachelor)
Summer term 2021
"Research Methods in HCI", Lecture 4 SWS, SS 2021 (UXD master, with S. Tasoudis)

"Research Project" (Interaction Concepts for Virtual Reality), Project 4 SWS, SS 2021 (UXD master, with A. Riegler)

"Softwareentwicklung 2" (Software Development 2), Lecture 4 SWS, SS 2021 (UXD bachelor)

"Software Prototyping und Usability Testing" (Software Prototyping and Usability Testing), Lecture, 4 SWS; Exercise/
Practical, 2 SWS

(UXD bachelor)

"Project Studiendesign und Durchführung von UX-Tests", Practical, 4 SWS, SS 2021

(UXD bachelor, with M. Schuss, A. Loecken, S. Tasoudis)
Supervised PhD Theses
Philipp Wintersberger,

working title

"Human Factors in Highly Automated Driving", January 2016-End of 2019 (expected)
Anna-Katharina Frison,

working title "

User Experience of Automated Driving Systems (ADS): A user-centered-design perspective", May 2016-End of 2019 (expected)
Sinan Hasirlioglu,

working title

"Sensor and Weather Modeling to Realize a Reproducible Mixed-Reality Test Environment", January 2017-End of 2019 (expected)
Maren Röttenbacher,

working title

"Intention Recognition in Human-Robot Interaction", November 2016-
Thomas Kundinger,

working title "

A robust fatigue detection method based on vehicle and driver vital data", PhD project with Audi AG, May 2017-
Nico Epple, working title "Assessment of Information Quality from Heterogeneous Data Sources in the Automotive Context, PhD project with BMW AG, October 2017-
Andreas Riegler, working title "Complexity Analysis of Automotive User Interfaces (focus: Windshield Displays)", October 2017-
Clemens Schartmüller, working title "Investigating User Interfaces for Productive and Safe Work in Automated Driving", February 2018-
Tamara von Sawitzky, working title "Evaluation of Human Factors (including trust, acceptance, presence and attention) in Augmented Reality Head-up Displays", September 2018-
Martina Schuß, working title "A Mixed-Reality Framework for Automated Driving Research", October 2019-
Jakob Peintner
Maximilian Lenz
Carina Manger
Supervised Master Theses
Nishant Kumar, "Assessment of Take Over Request- (TOR-)timings using Carmaker and parallel manipulator", Master thesis, THI, completed 02-18-2017
Mahesh Karthik Balasubramanian, "Potential of Plenoptic Camera in the Field of Automotive Safety", Master thesis, THI, completed 18-09-2017
Yalavarthi Phani Krishna, "Driver Drowsiness detection using Smart Gadgets", Master thesis, THI, completed 04-2017
C. Schartmüller, "Investigating Typing and Take-Over Performance in SAE Level 3-4 Automated Driving", Master thesis, THI, completed 10-2017 (external: Johannes Kepler University Linz, Austria)
Israr Ur Rehman, "Quantifying the Influence of Rain in the Near-Infrared Range", Master thesis, THI, completed 12-2017
K. Aghadaei, "Inattentive auditory stimulation in a car driving scenario", Master thesis, completed 02-2018 (external: University of Applied Sciences Technikum Wien)"
Tianjia Liu, "A simulator study to investigate users' willingness in using automated driving systems under various contextual conditions", Master thesis, THI, completed 03-2018
Tamara von Sawitzky, "Increasing Trust in Automated Driving: Route Indication on an AR-HUD in a Virtual Environment", Master thesis, THI, completed 07-2018 (in the frame of the "Research Master" program)
Sohail Zafar, "Automation of HMI Content Comparison: Proof of Concept for an Audi Q7 Center Stack on a Generation 3 Test Rack", Master thesis, completed 09-2018 (external: AKKA Systems)
Supervised Bachelor Theses
Mehmet Yildiz, "Entwurf und Ausarbeitung von prototypischen Szenarien zum Einsatz von Augmented Reality in der Automobilindustrie: Use case HoloLens", Bachelor thesis, THI, completed 02-2017 (external: ASAP Engineering)
Mu Yuanheng, "Analyse und Vergleich von Methoden zur Testfallgenerierung für Infotainmentsysteme im Automobil", Bachelor thesis, THI, completed 04-2017, PDF
S. Scheidler, "Potential von Mixed Reality in der Mensch-Maschine Interaktion: Use Case Industrie 4.0 mit Microsoft Hololens", Bachelor thesis, THI, completed 01-2018
J. Kipp, "Benutzerfreundliche Bedienung und Navigation mehrerer Fenster auf unterschiedlichen Displaygrößen", Bachelor thesis, THI, completed 02-2018 (external: Rohde&Schwarz)
L. Aigner, "Senior Drivers: Using the Benefits of Automated Driving for the Elderly", Bachelor thesis, completed 02-2018 
J. Reibel, "Entwicklung eines Tools zur Evaluierung von Marken und User Experience", Bachelor thesis, THI, completed 02-2018
S. Welser, "Anforderungen an ein HMI-Konzept mit Schwerpunkt Fahrerassistenzsystem unter Berücksichtigung der SAE-Levels für den Automatisierungsgrad im Fahrbetrieb", Bachelor thesis, THI, completed 02-2018 (external: Bertrandt)
J. Everaert, "Vergleich der Gebrauchstauglichkeit von Projektionstechnik und Head-Mounted Display für immersive Einsatzszenarien", Bachelor thesis, THI, completed 03-2018
P. Kaufmann, "Evaluation unterschiedlicher Dashboardvisualisierungen hinsichtlich kognitiver Belastung am Beispiel Tachometer", Bachelor thesis, THI, completed 06-2018
Katrin Röhrig, "User Experience Design für den Expertennutzer: Von der Anforderungsanalyse zu Designempfehlungen", Bachelor thesis, THI, completed 09-2018 (external: MediaMarktSaturn)
Manuel Seidl, "Entwicklung eines multimodalen Anzeigekonzeptes zur situationsgerechten U¨ bernahmeaufforderung eines teilautomatisierten Fahrzeugs", Bachelor thesis, THI, completed 11-2018 (external: ASAP Engineering)
Felix Grad, "Konzeption, Design und prototypische Umsetzung eines Low-Cost Nachrüstsystems zur Fernüberwachung/-steuerung von Zweitwohnsitzen", Bachelor thesis, THI, completed 10-2018
Miriam Peter, "Konzeption und Design eines Benutzerinterface zur Ansteuerung eines Target-Dummies", Bachelor thesis, THI, completed 02-2019 (external: Messring Active Safety)
Benny Nguyen Xuan, "Experience Driving: Personalisierte Routenführung basierend auf Fahrerfahrung, lokalen und globalen Fahrdaten, Strassengeometrie und Emotionszustand", Bachelor thesis, THI, completed 09-2018
Christoph Stadler, "Entwicklung und Validierung eines interaktiven EMG-basierten Konzepts zur Steigerung des Erfolgs im Krafttraining", Bachelor thesis, THI, completed 10-2018
Isabella Thang, "Evaluierung der Nutzerakzeptanz und User Experience eines autonomen Shuttles im ÖPNV", Bachelor thesis, THI, completed 12-2018
Tim Klingenberg, "Analyse der Einflüsse von Regentropfen auf der Windschutzscheibe bei der kamerabasierten Objekterkennung", Bachelor thesis, THI, completed 02-2019
Rune P. Frohn, "Generische Sprachdialog-Strategie für Bestellungen im Automobil", Bachelor thesis, THI, completed 03-2019 (external: BMW)
Tobias Klotz, "May I Assist You? Towards Automated Purchase Advice in E-Commerce. Between user needs and business goals", Bachelor thesis, THI, completed 03-2019
Bilay Aksoy, "Evaluierung von blickbasierter Interaktion mit Windschutzscheibendisplays beim automatisierten Fahren", Bachelor thesis, THI, completed 03-2019
Carmen Golling, "Evaluierung von Interaktionskonzepten zwischen Fussgängern und automatisierten Fahrzeugen", Bachelor thesis, THI, completed 04-2019,
Markus Andreas Ludwig, "The Emotional Driver: Ein Ansatz zur Erhöhung von User Experience und Sicherheit basierend auf Fahrerzustandserkennung mittels Sensordatenfusion", Bachelor thesis, THI, completed 04-2019 (external: BMW)
Tim Liske, "Visualisierung von Seiten- und Rückspiegelinhalten im Fahrgastinnenraum: Konzeptentwicklung und prototypische Umsetzung", Bachelor thesis, THI, completed 05-2019
Sinan Bekirloglu, "Evaluating the commercial viability of EEG based BCI products throuh a comparison of product utility and market expectation", Bachelor thesis, THI, completed 07-2019
Publications